Lightning flashed in the distance as we sped across a pitch-black lagoon in Costa Rica's remote Tortuguero National Park. With one hand, our driver deftly steered through the darkness while scanning the horizon with a powerful flashlight.
Suddenly, our skiff went airborne as it clipped a log at high speed. I grabbed the side of the boat and my husband to steady myself. We, along with 14 other travelers on a two-week guided journey through Costa Rica with National Geographic, glanced at each other nervously. I braced my knee against the boat in case we hit another obstacle; it wouldn't take much to send us flying into the dark water.
As we turned from the lagoon into an Amazonian-like canal, moonlit trees laden with vines leaned over the black, still water. The driver slowed down; somehow he had spotted a caiman, a relative of the alligator, eyes flashing yellow in the narrow beam of the flashlight. He maneuvered the boat in for a closer look.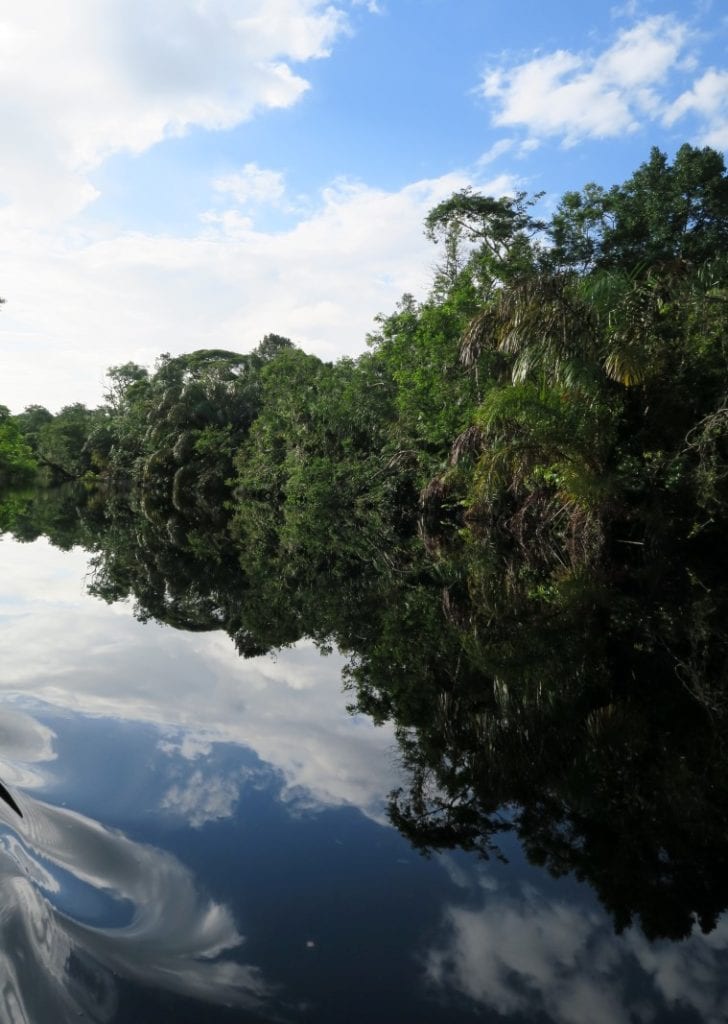 Costa Rica's abundant and diverse flora and fauna was exactly what we were all there to see. While many vacationers flock to Costa Rica to bask in its beach resorts, we were far more interested in learning about the country—comparable to the size of West Virginia—with the densest biodiversity on the planet. Ecotourism drives the economy. More than 27 percent of the land has protected status, which is remarkable for a developing country.
That night, we were heading back to our secluded jungle lodge after a lecture at the Sea Turtle Conservancy about their efforts to save nesting habitat at Tortuguero National Park. Our Costa Rican guides, Paul, from National Geographic, and Kenneth, a wildlife specialist who had joined us for the Tortuguero leg of the trip, were as excited as we were to identify and photograph animals that the driver seemed to find out of nowhere in the darkness.
Then our driver turned into a narrow canal, barely wide enough for two small boats to pass each other, that opened up to the dock at the entrance of Turtle Beach Lodge. There are no roads in Tortuguero National Park, which is accessible only by boat or small plane.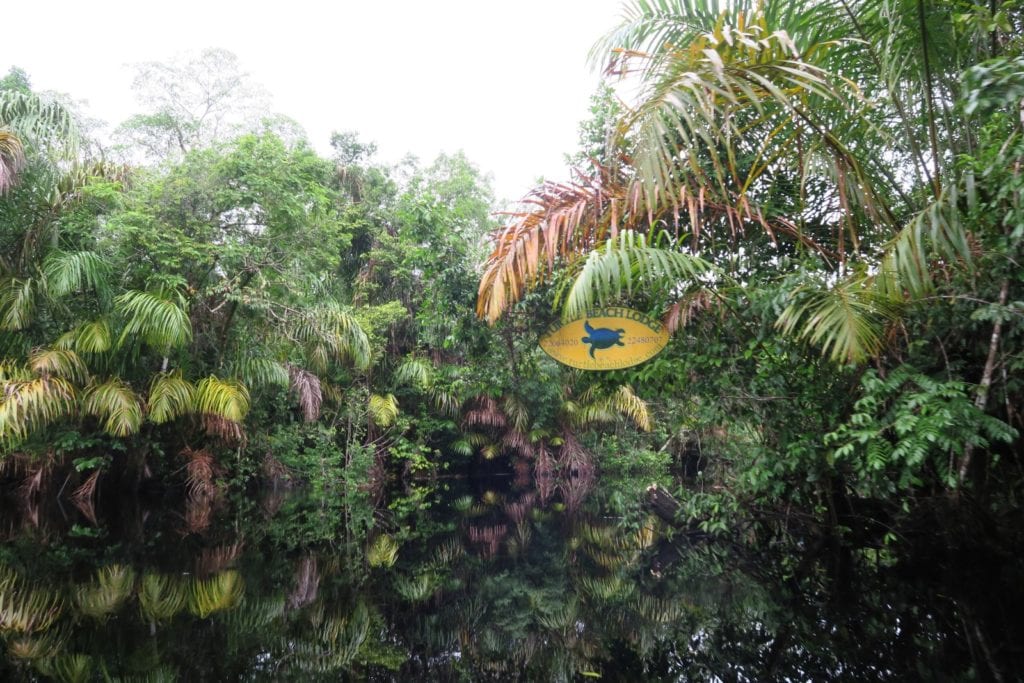 Before dinner, we headed to the open-air bar with our fellow travelers, who hailed from around the world, to shoot pool over piña coladas and mai tais. A traditional Costa Rican dinner was served buffet-style at long, communal tables under a giant grass-roofed hut: rice, beans and roast pork, along with the sweetest, freshest pineapple I had ever tasted.
Since our cabin at the rustic lodge had windows with only screens, the sounds of the surrounding jungle enveloped us. Waves from the Caribbean Sea pounded the nearby beach with such force that I could almost feel the vibrations. Rain poured on the metal roof and, along with a symphony of chirping frogs and insects, lulled me into peaceful sleep.
But there is no rest for the weary in the jungle. The guttural calls of howler monkeys awakened us well before our 6:00 a.m. wildlife search by boat. Morning was just as magical as night, but in an entirely different way.
At sunrise, the jungle began waking up as the temperature climbed. As we navigated through the tangle of canals, a flock of scarlet macaws with rainbow plumage erupted in a riot of color from a tree. Iguanas sunned on bushes hanging over the water. A dizzying variety of herons, ibises and cormorants hid amongst lush foliage.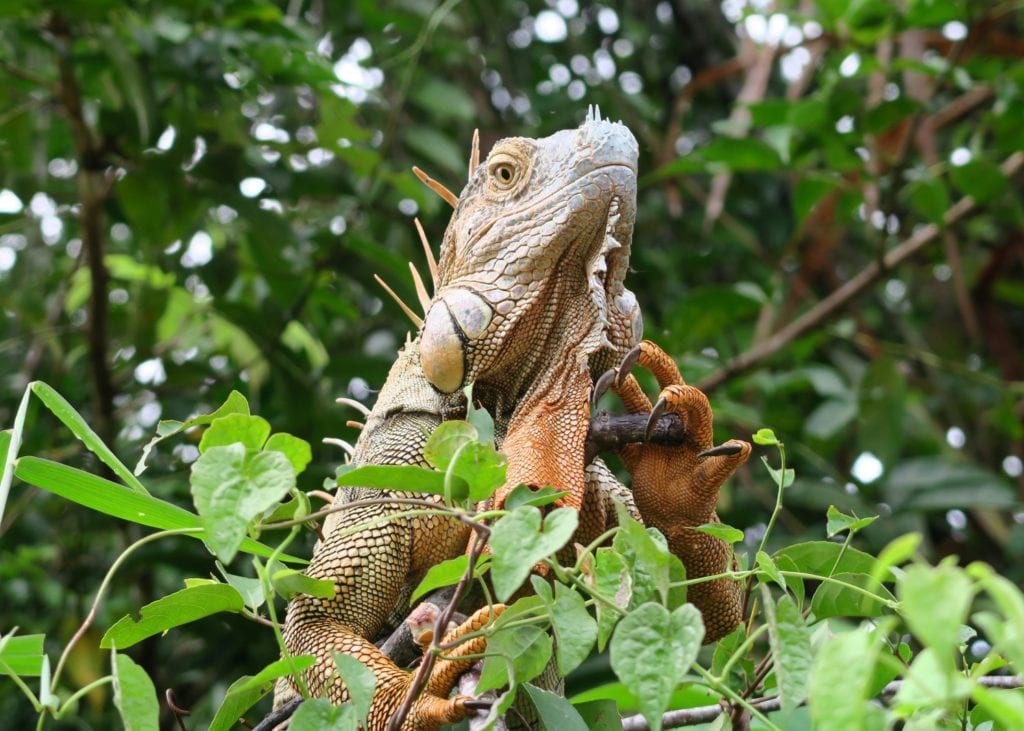 Later in the day, we had an opportunity to experience the dense jungle interior. We donned rubber boots and slogged through mud so deep, it was a challenge to avoid getting stuck. Rain poured and mosquitoes swarmed around us. Kenneth and Paul pointed out wildlife we never would have found on our own—giant camouflaged moths, tiny frogs clinging to palm fronds, and bats that cleverly cut banana leaves to create shelter from the rain. I gained a newfound appreciation for people who managed to eke out a living there.
Before we left Tortuguero National Park, I took one last walk on the beach at our lodge. Palm trees stretched as far as the eye could see in both directions and flowering vines grew to the edge of the thundering surf. It was the wildest beach I had ever seen. There was no sign of human habitation—except a disturbing amount of trash belched up by the sea that I gladly would have stayed behind to collect and stay in this extraordinary place a little longer.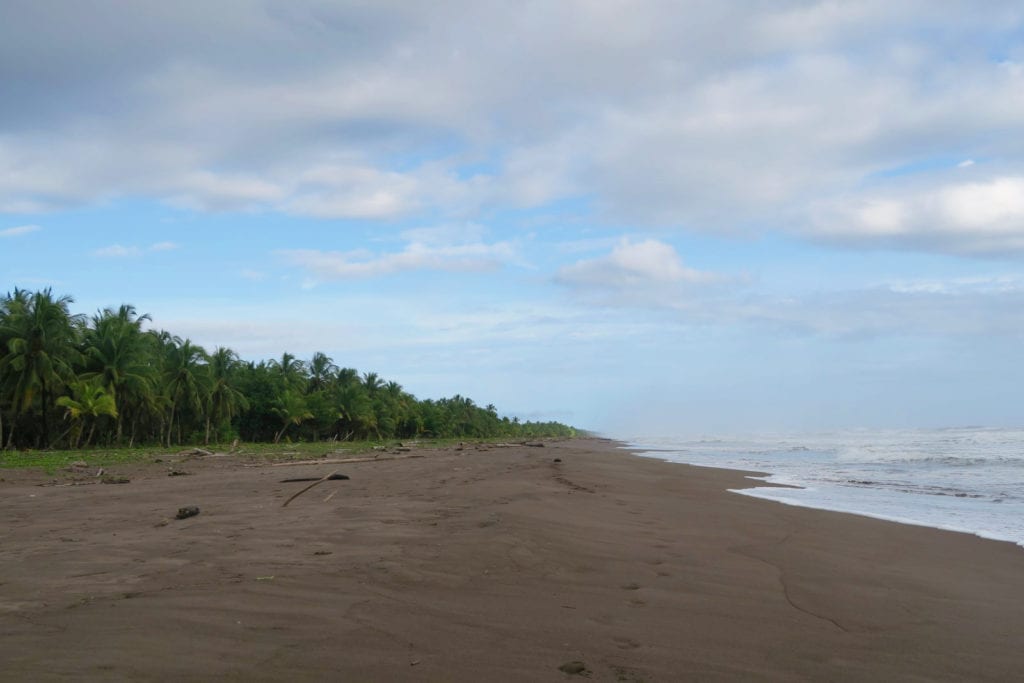 A pair of friendly mutts patrolled the beach; dogs roamed freely and seemed to embrace the relaxed pura vida way of life in Costa Rica. By the end of our trip, I would come to fully understand the allure of this country—its cloud forests, active volcanoes and untamed beaches brimming with life and the pride that Ticos place on preserving and sharing the natural wonders of their home.
Resources:
Sea Turtle Conservancy
@conserveturtles
National Geographic Journeys
@natgeoexpeditions
With 91 destinations around the world, group tours with National Geographic Journeys range from six days to more than three weeks. Always led by a guide with fewer than 16 participants, the trips offer focus on interests (from hiking or birdwatching to people and culture) and range in activity level and price.
National Geographic Journeys, Costa Rica
Visit Costa Rica
@visit_costarica
Images by Kathleen Toler.